In the Outbound Automation by boberdoo system, emails are broken up into four separate parts: Subject Line, From Line, Body and Footer/Unsubscribe. To build an email you must add each of these parts. You have the option to either add a brand new email part or select from an existing part that you have already created.
Step 1: Subject Line
To build an email, first go to your Creatives tab and select Add New Email from the dashboard. Your first step is adding a subject line. Select Add New to build a new subject line. Type in your subject line exactly how you would like to to appear in an inbox. When building your subject line, you will also see a set of available magic strings. Simply copy any string you would like to use into the Subject Line field and it will auto-populate with the appropriate information when delivered to your contacts' mailbox.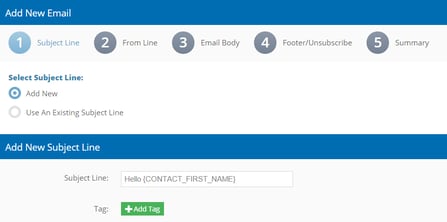 Step 2: From Line
Adding a from line works the same as adding a subject line. Either select to add a new from line or use an existing one. When adding a new from line, you are asked to enter the name that this email will be sent from as well as the email address. If you have an Amazon SES account integrated with the system, it will automatically send out a verification email once you click Save and Continue. You must first verify this email address before using it in any campaign that is sending via Amazon SES.
Before saving your from line, be sure to select any ESPs you would like to use in conjunction with this from line.
Step 3: Body
You have 3 options when adding a body to your email.
1. Add New
A) This option will take you on a 3-step process of adding a unique email body. First select a template or theme. If you select a template, you must also choose color scheme. Click next step.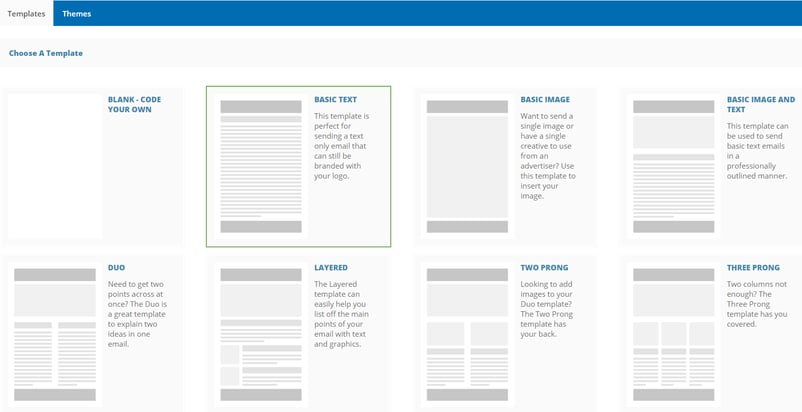 B) Add Body Info – Next you must name your body and enter the plain text. While an optional field, plain text is the email that is displayed on any email client or device that does not receive HTML emails. Insert all relevant text and links here. Click next step.
C) Build Body – Finally, edit your body by clicking the various sections in the editor. Swap and resize images, write your text and insert links. Once again, you have the option to auto-populate various fields with the list of available magic strings.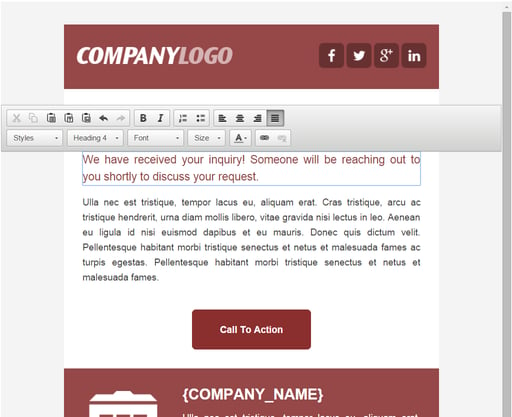 2. Build From An Existing Body
A) This option will allow you to start with the framework of an existing body, make edits and save your new creation as a unique body. First, select an existing body.
B) Next, make changes to the Body Name and Plain Text and click Next Step.
C) Finally, make your changes in the editor and click Save and Continue
3. Use An Existing Body
A) This option allows you to select and utilize an existing body without the option to edit it. Note: One of the duplicate checks in the system is Email Body. If a contact has received an email with body ID 1 in the past, it can not receive another email with the same body ID ever again.
Once you have created or selected your body, click Save and Continue.
Step 4: Footer/Unsubscribe
Next, you need to add a Footer/Unsubscribe. This will display your company information at the bottom of the email as well as include two unsubscribe links (Unsubscribe from Campaign and Unsubscribe from All Future Mailings). Select Add New to build a unique footer or select one of your existing footers. When adding a new footer/unsubscribe, fill out each field manually or click the Use Default Footer Information box to populate each field with the company information supplied in the Setup Tab. Click Save And Continue.
Step 5: Summary
This step requires you to name your email and specify the email address that all replies will be sent to. This step also lists the names of each email piece that you chose for this complete email and the option to add tags as well. If you would like to make changes to any of the individual email pieces, navigate using the previous step buttons or click the steps above. Finally, click Save Email.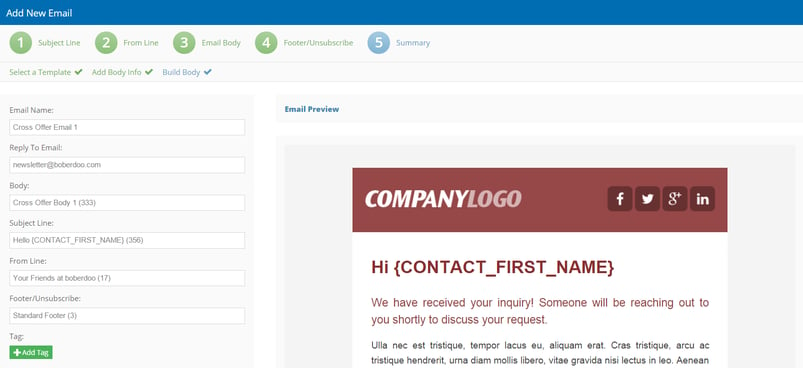 Your email is now created and available for use in a campaign. It will also appear in your Creatives dashboard so you can review its performance. Each individual email piece is also saved under its respective sub-tab.