Every Gmail account allows access to its SMTP server settings which gives you the ability to send emails from your Gmail account via any external email service. This page will show you how to plug these SMTP credentials into your Outbound Automation system to send emails via your Gmail account.
Gmail SMTP Restrictions
Before you set up your Gmail SMTP, be aware of the following restrictions on your account
Gmail SMTP is limited to 500 emails per day.
If you exceed this limit or appear to be spamming, Google can close your account for 24 hours at a time.
If you already have a Gmail account, you can use your existing account. However, based on the restrictions listed above, you may want to consider creating a unique Gmail account for this purpose.
Step 2: Add Your Gmail SMTP to Outbound Automation
Next access your Outbound Automation system, click the Setup tab, then click the Add New ESP button. Select Gmail SMTP from the dropdown menu and click Save ESP Account.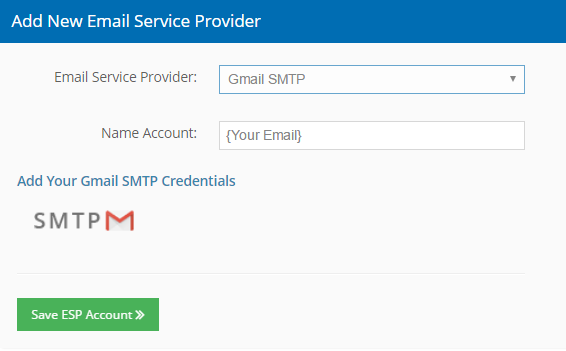 Next, you will see a Google page asking to access the Google account you are currently logged into. Confirm that you are logged into the Gmail account that you would like to send through and click Allow.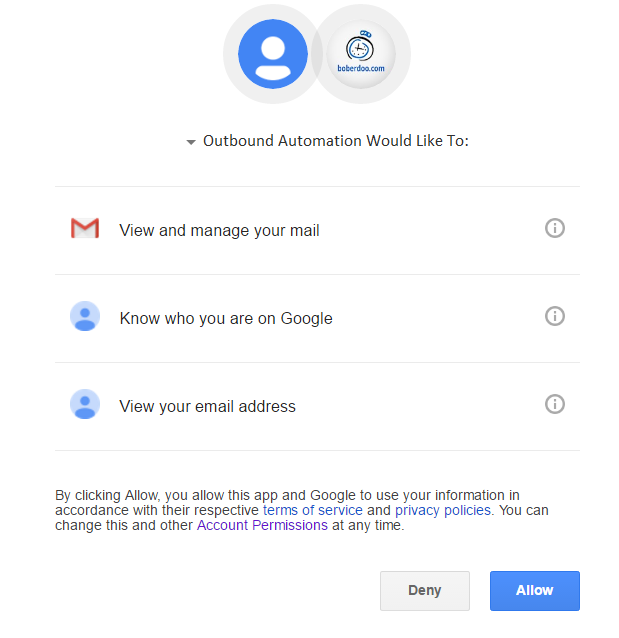 Your Gmail SMTP is now added as an ESP option in your Outbound Automation system.
Step 3: Test Send From Your Gmail SMTP
Before you can send from your Gmail SMTP, you need to configure your From Lines to send through this ESP. Access the Creatives tab in your OA system and click on the From Line subtab. Add a new From Line or edit one of your existing from lines. Next, click the checkbox for Gmail SMTP and save your from line. Gmail SMTP will now appear for any campaigns using this From Line. Finally, return to the Setup page and click the Send Test Email tool for your Gmail SMTP to send a test email. If you receive the test email, your Gmail SMTP is ready to use!
Quick Tip: Because Gmail SMTP limits you to just 500 emails per day, we recommend restricting your Gmail SMTP sending capabilities within your Outbound Automation system. From the Setup page, locate the Daily Send Limit setting and save a 500 email limit. This will prevent your Gmail SMTP from attempting to send more than your 500 emails within any 24 hour period.