What Is Phone Swapping?
Phone swapping is a feature that "swaps" out the number that is submitted with the lead for one in the same area code that can be tracked. When your lead buyer(s) call the swapped number, it is forwarded to the lead's phone number and connected as normal, but swapping the number allows your lead system to report on the calls made to that specific lead. The overall lead flow and process is not interrupted, so neither the lead buyer nor the lead itself will notice any change in their communication. This provides data that is actionable for a variety of use cases, which are detailed below.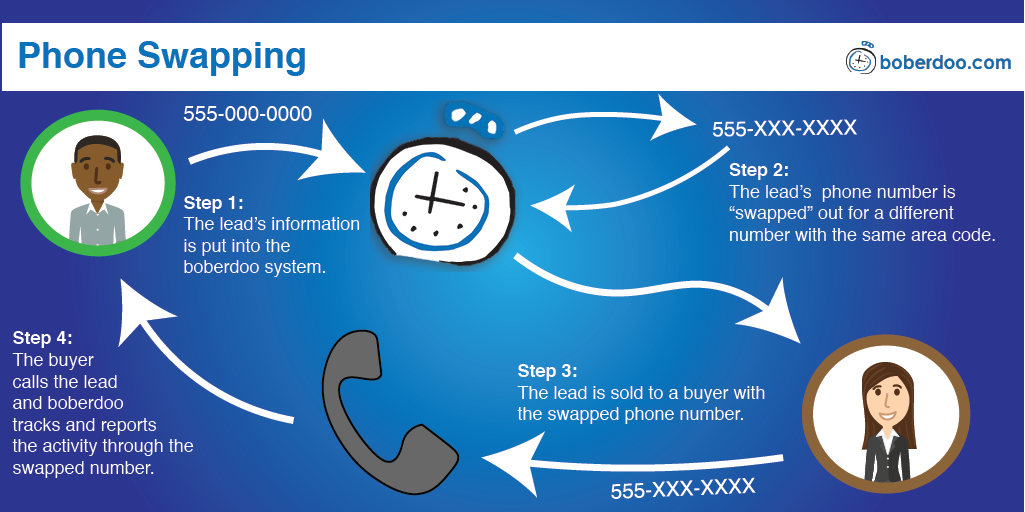 1. Providing Sales Consultation To Buyers
With the ability to track the calls made to the lead, companies that want to go above and beyond the lead sale can provide consultation to their clients. Phone swapping reports provide insight into your clients' response time (speed-to-lead) and sales cadence (call frequency). Whether it is to build an additional revenue stream through consulting, or a way to verify that your clients are properly working your leads, phone swapping provides transparency into the call activity of your clients.
2. Helping Onboard New Lead Buyers
Depending on your sales process, bringing on the "wrong" lead buyer as a client can do more harm than good. Ensure you are bringing on clients that can be successful with your leads. To try phone swapping out, just swap the numbers for their first 100 leads then sit down, analyze and have a conversation about where they sit relative to their competition. Discuss any changes they would need to make to be successful with your program.
3. Combat "Your Leads Suck"
If you sell leads, you have heard that statement before. How nice would it be for your sales reps to be able to say, "Yes, I can understand how you were not successful with our leads. I see it took you, on average, 18 hours to call a lead the first time. Companies need to have an efficient sales process to compete in today's environment. Would you like me to set up a time to discuss your sales cadence with someone on our team?"
4. Track Revenue-Sharing Lead Buyers
If you sell leads on a revenue share or per-close basis, phone swapping provides valuable intelligence. You are fronting the marketing campaigns and relying on their sales cycle, so ensure those buyers are properly working your leads, not sitting on them or trying to sell them out the back door.
5. Track At-Home Call Reps
If you are reading this right after it was published, then you may be dealing with a sudden work-from-home situation due to the COVID-19 outbreak. This makes phone swapping a good option for monitoring your own workforce and how they are faring from home.
Phone swapping is an optional add-on to the boberdoo lead system. If you are an existing client and are interested in giving phone swapping a try, open up a ticket and we will get back to you with the next steps! If you are not a client and are interested in talking about this and other features that boberdoo has, set up a demo with us; we'd love to chat more about it!