When utilizing 3rd party Email Service Providers to send your email marketing campaigns, oftentimes you will first need to verify the domain through which you are sending your emails. This is extremely important, because if done incorrectly or left incomplete, your emails can trigger inbox spam filters or even fail to send completely. This page is meant to guide you through your domain verification steps by utilizing the domain host GoDaddy and the ESP Sparkpost as an example. However, each domain host is slightly different. If these instructions do not help you verify your sending domain, please contact your domain host directly.
Step 1: Add Your Sending Domain in your Email Service Provider(s)
If you have not already added your sending domain for each of your ESP accounts, do so now. Follow the instructions provided by your ESP to ensure you add your domain or subdomain in the correct format.
Step 2: Verify Your Sending Domain Host
Verifying your domain requires you to log into your domain host and make a few DNS adjustments. However, before you access your domain host, first verify that your the service that is hosting your domain. It is fairly common for a domain to be registered via one service (such as GoDaddy) but hosted elsewhere.
From the link above, type in your domain and locate the Name Server(s) field. All further verification will need to be done through whichever host is listed in the Name Server(s) field.
Step 3: Access Your Domain's DNS Zone File
To do this, log into your domain host account identified in step 2. Next identify the DNS or DNS Zone File section. From here, you can add the records necessary to fully verify your domain.

Step 4: Add TXT Records
Most Email Service Providers require you to add both an SPF and DKIM record for your domain.
Add SPF Record: In your ESP account, access the domain you added in Step 1. From here, you will see instructions that specify the record type (TXT), the Hostname and the Value when building your SPF record. Next, return to the DNS record in your domain host account and add a new Text (TXT) record. Paste in the corresponding Hostname and Value and save your new record. Your SPF record is now added.
*I have more than one SPF record: You should never add more than one SPF record for a single domain. This is a common spam flag. Because of this, if you are verifying the same domain via multiple 3rd party ESPs, you will need to combine both values into a single SPF record.
Example: v=spf1 include:sparkpostmail.com include:sendgrid.net ~all
Add DKIM Record: This step is identical to the SPF record step. Copy the Hostname and Value and create a new TXT record including each of these.
Once your SPF and DKIM records are added to your domain, be sure to save the changes.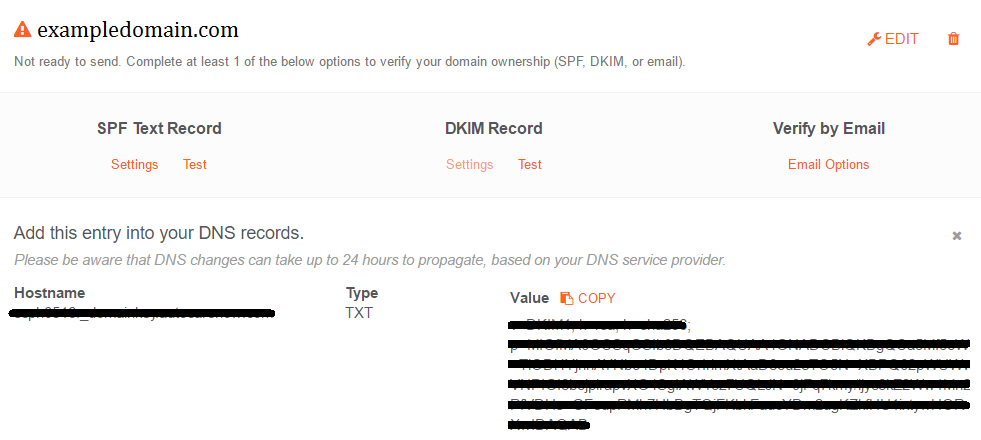 Step 5: Add CNAME Record (Mailgun Only)
If you are verifying your domain for your mailgun account, you must also add a CNAME record to your domain in order to track email opens. To do so, follow the same instructions as Step 4, but add a CNAME record instead of a TXT record.
Step 6: Test Domain Verification
This change to your DNS Zone File may take only a few minutes to propagate, but can take as long as 24 hours. Return to your ESP to check if your domain has been successfully verified. From the Sending Domains page use the test feature.
Once your records are set correctly, the test tool will respond with a successful verification.

If the test tool does not return a successful verification after 24 hours of the domain record update, your SPF or DKIM records were not set correctly. Contact your domain host directly to resolve this issue.