One of the best ways to increase your revenue-per-lead is by running cross offer campaigns. By getting a lead you already generated to fill out your form in another vertical, you can automatically capture and sell the same lead to a different buyer in a different vertical without having to spend a dime or a second of your time doing so.
Let's imagine you're generating 100 leads/day and 5% of those leads convert on a cross offer valued at $10. Over a year, that's an extra $18,250 that you earned automatically without having to lift a finger. Let's set it up!
Setting Up a Cross Offer
Go to Settings>Webhooks/Notifications and create a new notification for the event "New lead – matched". Next, use the Send Email To dropdown and select "Lead" and fill in the Name From , Email From and Subject fields. If you would like to limit the time of day in which to send the email, use the Operation Time tool. If you want the email to send immediately, leave Operation Time empty.
Your next step is to build the email itself. Utilize the email editor or click the Source button to build an email using HTML. A set of magic strings are available in the box to the right that can be used by copying the value in the left column. Once the email is sent, these fields will pre-fill with the corresponding value associated with the matched lead. After you have completed your email, click Save Changes.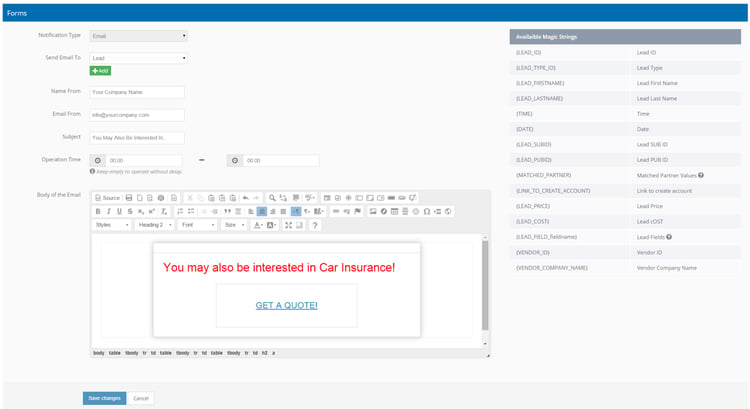 Setting Up Rules
Once you activate your notification, it will start sending to every lead that matches in your boberdoo system. However, if you would like to limit this notification to specific lead types, partners, or sources, you will first need to add a rule. Click the "Define Rules" button next to your notification. Use the dropdown to specify the rule type for each rule and check the appropriate options to meet your specifications. Click Set Rules to save. Finally, click the Enable Campaign button to make this notification live.
Note: you can add as many notifications for each event as you would like. This allows you to build cross offers from one specific lead type to another and visa versa.
Your cross offer is now fulling configured and ready to start bringing in additional revenue. If you have any questions about setting up a cross marketing notification in your boberdoo system, please contact support. If you're interested in learning more about lead generation, click here: