Are you looking to integrate a Sparkpost account with Outbound Automation by boberdoo? You've come to the right place. Sparkpost is a fairly popular ESPs that can be easily integrated into Outbound Automation. Follow the steps below to properly configure and integrate your Sparkpost account.
If you already have a Sparkpost account, skip to step 2. If you'd like to set up a new Sparkpost account, click the link above. Once you create your account, you will be asked to choose a free plan (up to 100k emails/month) or to add billing information for easy upgrades.
Next, you will be asked to add a sending domain. Type the domain or subdomain that you would like to use when sending. You will need to verify this domain, so make sure you use a domain that you own or have administrative access to. If you skip this step, you can add a sending domain later.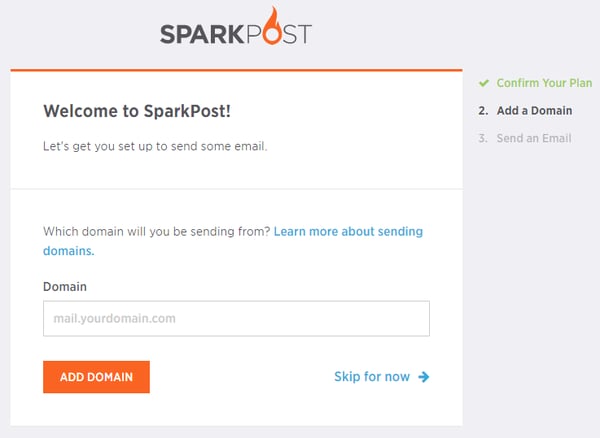 Next, you'll be asked if you'd like to send email using SMTP or the RESP API. Select REST API.
Finally, copy and save the API key displayed and click Continue To Dashboard.
Step 2: Verify Your Sending Domain
Next, you need to verify all domains that you would like to send through. Sparkpost will not allow you to send from an email address with an unverified domain.
Go to Account>Sending Domains. If you added a sending domain upon your account creation, you will see it here. If you did not, add a new domain. Next, click the Settings link below your domain. From here, you will see the DNS record that needs to be added to your domain host account in order to verify your domain.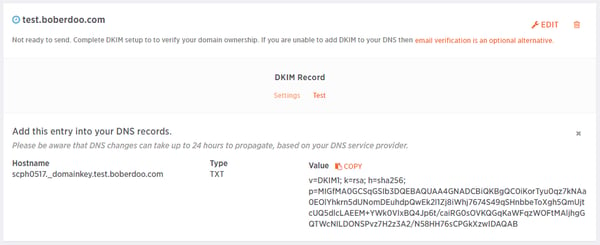 Go to your domain's hosting account. If you don't know what hosting service you are using, you can look it up here and find your hosting service in the Name Server(s) field. From your hosting account, locate the DNS records or the DNS Zone File. From here, add a new record.
Record Type: Text (TXT)
Hostname/Host/Name: Copy and paste the Hostname from your Sparkpost sending domain
Value: Copy and paste the Value from your Sparkpost sending domain
Save this record and save changes to your DNS if necessary.
Finally, return to your Sparkpost account and click the Test link under your sending domain. This will check your DNS records and verify your domain. Once verified, you will see a green checkmark. You are now ready to send. Note: You can only send emails via Sparkpost using an email address of your verified domain. In the Outbound Automation system, the From Line of your emails must have your verified domain after the @ symbol.

If your domain is not successfully verified, click the Test button again in a few hours. Some DNS changes can take up to 24 hours to propagate. After retrying, if you domain is still not verified, see Sparkpost's verification guide and verify your setup.
Step 3: Add a Webhook
Next, you need to add a webhook to relay the correct tracking information to Outbound Automation. Go to Account>Webhooks and click the New Webhook button. Next, name your webhook. In the Target URL section, paste this exact URL: https://marketingapi.boberdoo.com/i/espgw/sparkpost
For the step titled Authentication, you can leave the dropdown option set to None. Next, for the Events option, click the Select button. From here, make sure the following events are checked: Bounce, Delivery, Injection, Spam Complaint, Out of Band, Policy Rejection, Delay, Click, Open, List Unsubscribe, Link Unsubscribe. Make sure all events outlined in red in the image below remain unchecked. Once complete, click Add Webhook.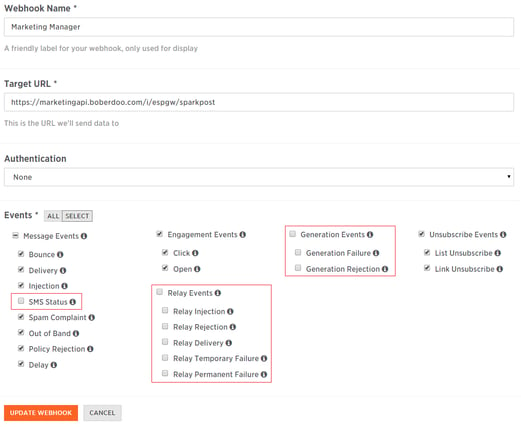 Step 4: Set API Key Permissions
For this step, you will need to configure your API key with the correct permissions. Go to Account>API Keys. If you saved your API key from step 1, you can edit the Auto-Generated key that appears on your API keys page. If you did not, you will need to click the New API Key button.
From the Add new/Edit API Key page, name your API key and grant the following permissions:
Account: Read, Event Webhooks: Read/Write, Sending Domains: Read/Write and Transmissions: Read/Write options and click the Add API Key button. See image below. Leave the Allowed IPs field blank and save your API key. If you added new API key, copy the key that is generated. You will need this key to add to Outbound Automation.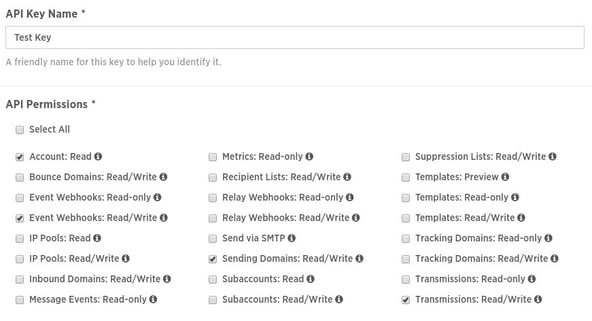 Step 5: Add Your Sparkpost Account to Outbound Automation
In this step, you will use the API key that you copied in Step 1 (or built in step 4). Once you have your API key copied, head to Outbound Automation in your boberdoo system, and click on the Setup tab.

From here, locate the Email Service Providers box and click the green Add New ESP button. Select Sparkpost from the Email Provider dropdown and choose a name for your ESP. This name will be used for internal reference and organization only. Finally copy your API Key into the Api Key field.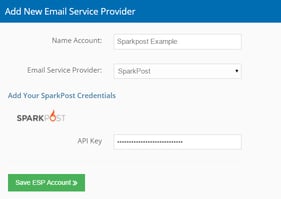 Once you've entered the API key, just click "Save ESP Account" and you're all set!
Note: If you already have any From Lines built into your Outbound Automation account, you will need to enable this ESP for use. Go to Creatives>From Lines and edit your from line. You will see your new ESP as an unchecked option. Once you check your ESP and save the From Line, your new ESP will appear as a sending option for all emails using this From Line.
Step 6 (Optional): Adding a Dedicated IP
You can purchase a dedicated IP from the Account>IP Pools page. By default, Sparkpost sends through the default IP Pool. If you do not have any dedicated IPs in this pool, SparkPost will send through its shared IP Pool. After purchasing your dedicated IP, move the IP into the Default IP Pool.