Automating your outbound email marketing efforts is easier than ever before. Launching dynamic marketing campaigns as soon as a contact fills out your form allows you to build drip campaigns and an entirely automated sales funnel and they're also the best solution for your contacts as well. Consumers want instant gratification and expect to be contacted almost instantaneously by the company that they just submitted their information to. Not only that, but bulk email blasts just don't work like they used to.
Outbound Automation integrates with the popular WordPress plugin Contact Form 7 to allow you to dynamically post contacts into your Outbound Automation lists. This allows you to automatically launch campaigns for individual contacts as they fill out your form and enter the system. This page will walk you through the setup required to make this work.
Step 1: Install and Set Up Contact Form 7
If you aren't already a Contact Form 7 user, download and install the WordPress plugin here. Once installed, follow all instructions required for further setup and customization or reference Contact Form 7's getting started guide.
Step 2: Install the Outbound Automation Contact Form 7 Extension
Next, you need to install the Outbound Automation extension which will allow you to sync your forms with your marketing system. Download the extension by clicking the link below.
Next, return to your WordPress site and go to Plugins>Add New. Select the Upload Plugin option, choose the file you downloaded above and click Install. Finally, click Activate Plugin. You can now access the Contact Form 7 plugin with Outbound Automation extension by clicking the Contact tab in your WordPress dashboard.

Step 3: Configure Outbound Automation
Your next step is to build the integration between your Outbound Automation system and a contact form. Access your Outbound Automation system and click the Setup tab. Locate the API Key Management section and click View API Key Management. Click Add API Key, name your API key, add a description and click Create API Key. This will automatically generate an API Key for you to use to integrate with Contact Form 7. Copy your API Key.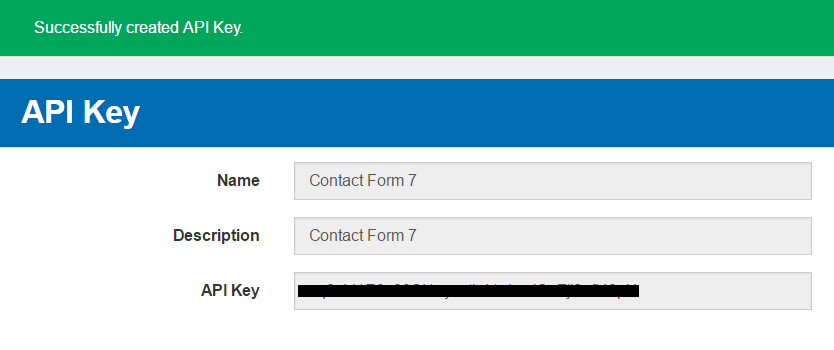 Next, access the Lists tab of your Outbound Automation system. Click the Add New List button and select the Create New List For Use With API button. Name your list "Contact Form Test" and click Create Dynamic List.
Step 4: Integrate Contact Form 7
Return to the Contact tab in your WordPress dashboard and add a new Contact Form. From here, you have the option to build your form, add fields and customize some additional settings. You will also notice a tab titled Outbound Automation. When you click the Outbound Automation tab, you will see the option to add an API key as well as a list name. Copy in your API key and list name (Contact Form Test) from step 3 and save your form.
Your form is now integrated with your Contact Form Test list in your Outbound Automation system. When a contact is submitted through your Contact Form 7 form, the contact will automatically enter your Outbound Automation list and any campaign the list is attached to.
Step 5: Place Form And Submit Lead
Your next step is to place your form and submit a test lead. From your Contact Form, you will see a shortcode that you can paste on to any web property. Place this code on a page and use the form that appears to submit a lead.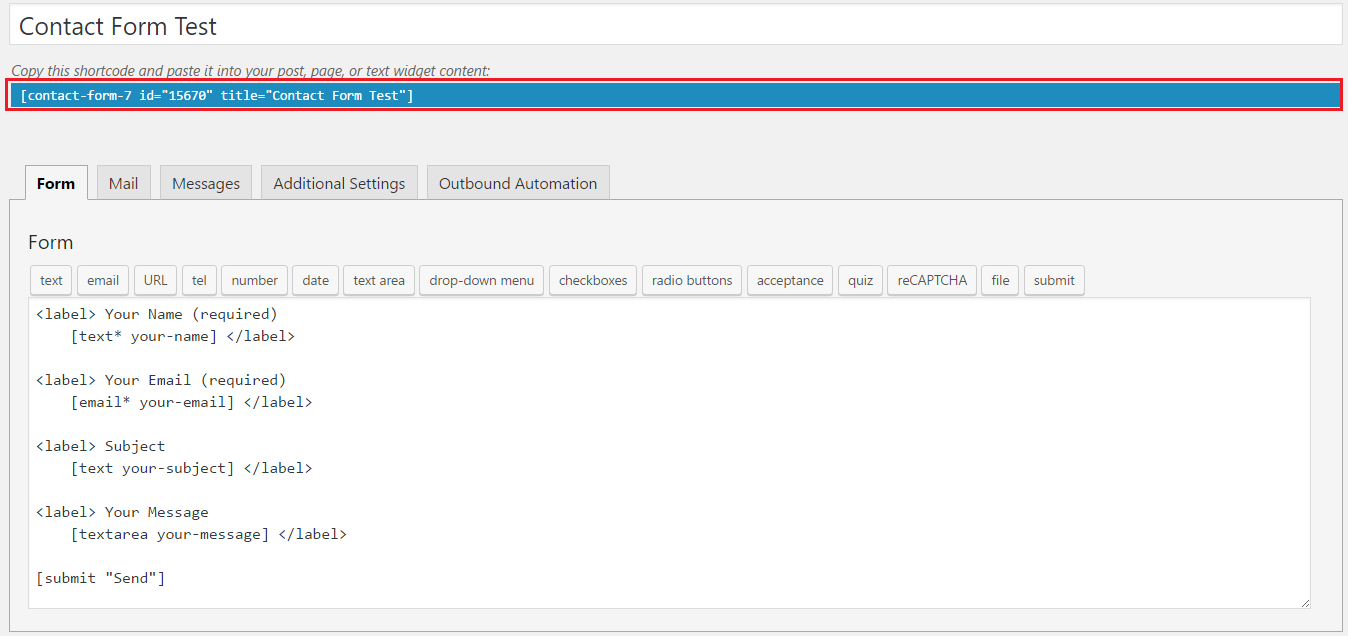 Next, return to your Outbound Automation system and view your Contact Form Test list. From here, you should see the test contact that you submitted from the form.
Step 6 (Optional): Customize Contact Form
If you're looking to add additional fields to your form, build a color scheme or add any additional customization, please reference the links below.
If you're not already an Outbound Automation user, but are interested in the functionality outlined above, please click the link below. We'd be happy to help you get set up and automating your marketing campaigns today!