What Makes The Best Lead Delivery System?
When you think of your lead generation business is one of your biggest considerations your lead delivery system? Well, honestly, it shouldn't be. Your lead delivery system should not be top of mind because it shouldn't be something you need to worry about or waste precious time working with. Your lead delivery system should be like the best referees or sports officials. You don't even notice that they are there. Once your lead delivery system is up and running, it should be a seamless piece of your lead generation process, but that doesn't mean that any old software will do. In order to ensure that you are investing in a system that you can count on, keep an eye out for these 3 things.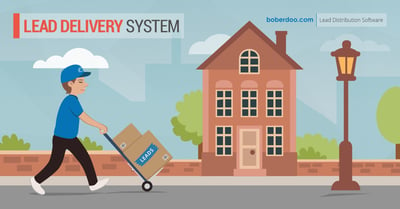 Lead Delivery Options
When it comes to a lead delivery system, one of the most important features is options. It is certainly important to ensure that your software has the delivery options that you currently need, but it is also vital that you consider the options that you may need down the road. Lead generation is an opportunity-based industry. You don't want to run into a situation down that road where you cannot take advantage of a new opportunity simply because of your lead delivery limitations.


Your lead delivery system should have all of the delivery options listed below:
Email

HTML
Excel
PDF
Plain Text
Short TextDirect Post

Direct Post
Ping Post
SMS Text Messaging
Speed
The importance of delivery speed certainly fluctuates from business to business. Those that rely on real-time delivery know how much buyers value the opportunity to contact a lead as soon as their information is submitted. Additionally, those who take advantage of ping post deliveries and have to consider timeouts on the ping and post truly understand that speed is one of the most important factors in the lead delivery process. Advanced software like boberdoo can deliver almost every lead in just fractions of a second.
Reliability
Finally, reliability is an extremely important feature in any lead delivery system. For systems like boberdoo.com, the reliability of all email deliveries can be directly addressed by you and the SMTP that you use to deliver all emails from the system. However, the reliability of all deliveries cannot be controlled from your end. Oftentimes when deliveries fail, it is because of a rejection on the buyer's end. While you cannot personally rectify any issues with the buyer's software, you can utilize features within your own system that can protect your bottom line. For example, advanced systems like boberdoo.com include features that allow you reprocess any leads that failed on the delivery and sell them to available buyers. Even in a real-time ping post scenario, the boberdoo system can automatically sell and post a lead to a new buyer if it fails on an initial delivery.
As you can see, your lead delivery system has a large impact on the way you run your lead generation business. However, your system should never be a cause for concern. By ensuring your system has all of the features listed above, you will be able to deliver all leads to all of your buyers in the most efficient and cost-effective manner possible.
boberdoo.com has been building lead delivery systems since 2001. Our software is a complete lead generation back-end that includes lead delivery and much more. If you buy or sell leads in real-time, boberdoo has the features you need to consolidate all of your back office tasks in one convenient platform. I encourage you to give us a call at 800-776-5646 to learn more or feel free to click the red Contact Us tab.