Geographic Lead Routing Features
The boberdoo system has long been known for its advanced targeting and filtering options. These options continue to allow our clients to drill down by specific geographic locations and route and price each individual lead accordingly. However, thanks to our most recent international development, our advanced geographic targeting options are even better than ever. Our clients in the UK and Australia can now utilize our geographic lead routing features the same way that our US clients can.
UK
The boberdoo system can now route each individual lead from the UK based on postal code. This means that you can import a list of postal codes to either include or exclude for any given lead buyer. Furthermore, the boberdoo system also comes equipped with a radius builder. This allows you to build a radius around any given postal code and choose to either include or exclude all postal codes that fall within.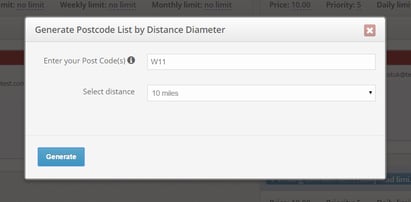 Australia
Unlike the UK set up, the boberdoo system routes leads in Australia based on state. So for each of your buyers, you simply choose which states they will accept leads from and the system will route accordingly.

Inbound Phone Routing
If you were not already aware, the boberdoo system can also route inbound calls from both the UK and Australia. To set up geographic routing in either country, we can build a custom IVR for any of your phone campaigns. This will prompt the caller to enter their state or postal code when calling, which will allow the system to route the call to the correct buyer.

boberdoo.com is a leading provider of lead distribution systems for companies that buy and sell leads and calls in real time. boberdoo continues to roll out features that allow international companies the same capabilities as in the US. As international markets continue to develop, it is even more important for lead generation companies overseas to acquire the technology necessary to take advantage of their opportunities. If you would like to learn more about the boberdoo system or how boberdoo can help your specific business grow, feel free to give us a call at 800-776-5646 or click the red Contact Us tab.