boberdoo is the most sophisticated lead distribution system on the market and has been helping lead companies automate their back office tasks since 2001. Our distribution process allows you to create custom business rules that determine exactly how a lead enters the system, matches to your buyer(s) and sells. So how does this process work?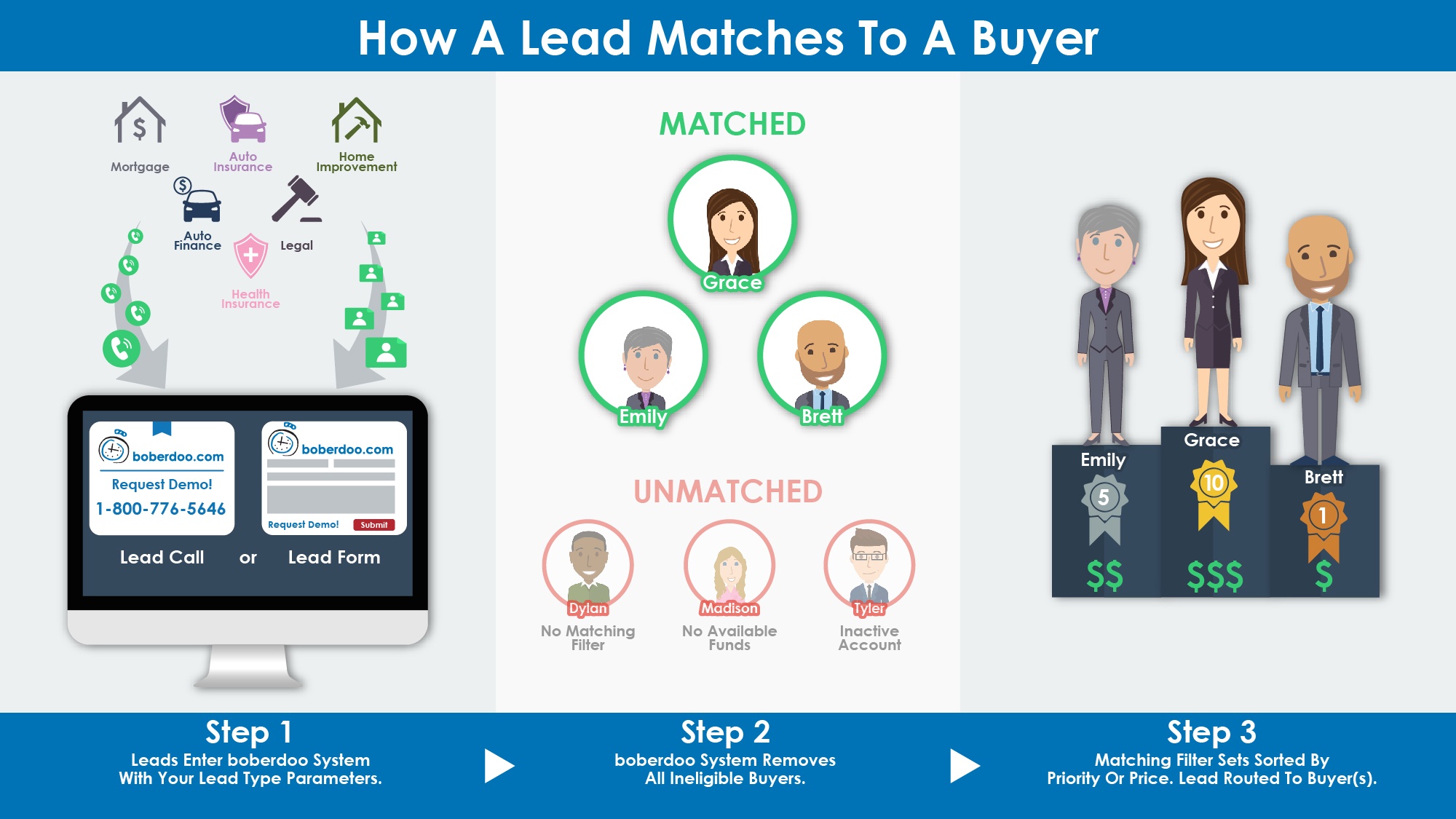 Step 1: Leads Enter boberdoo System
Each individual lead enters the boberdoo system either from your form or a post from a vendor. This lead enters in accordance to your lead type parameters as well as with a Source (SRC) value that provides additional segmentation options.
Step 2: boberdoo System Removes All Ineligible buyers
Next, the lead attempts to match to one or more buyers in the system. However, first the system removes all buyers that are not eligible to purchase the lead. All buyers that lack available funds, a matching filter set or an activate account are not eligible to receive the lead and are immediately removed from consideration.
Step 3: Matching Filter Sets Are Sorted By Price or Priority
Once all ineligible buyers are removed, the system then gathers all filter sets that match to the criteria of the lead. These matching filter sets are then sorted by priority or price. With standard real-time distribution, filter sets with the highest priority are considered first with all filters sets with equal priority going into round robin distribution. With ping post distribution, priority is determined by the bidding prices of each buyer.
Step 4: Lead is Routed to the Buyer(s)
Finally, after the matching filter sets are sorted, the corresponding buyer(s) then officially purchase the lead which is then delivered in real-time.
This process is a fairly high-level view of a lead's path through the boberdoo system. However, with advanced settings resting both where the lead enters the system and also in the buyer filter sets, there are additional ways to customize this process to your specific needs. We would be happy to discuss this process or any custom distribution logic your business may requires. Feel free to give us a call at 800-776-5646 or click the link below to request a demo.