*Disclaimer: we do not buy or sell leads. This page is an overview of the debt settlement lead generation industry.
The average U.S. household owes $7,281 in credit card debt. However, if you only take into account households that are in debt, that average jumps to $15,609. We can take this one step further. Including credit cards, mortgages and student loans, Americans owe approximately $12 trillion in debt, an increase of 2.6% from last year. It's safe to say that debt is extremely prevalent in the U.S. This also means that the debt industry is massive. People need help managing their debt, which plays right into the hands of debt services and the companies that provide them leads.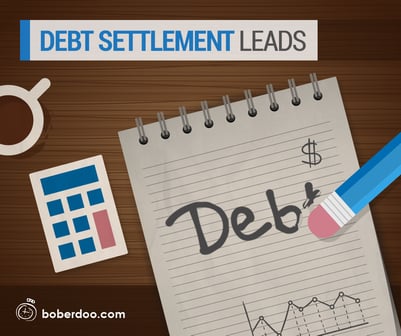 Debt Settlement Lead Generation
There are several ways to manage debt. Some opt for debt consolidation or go the opposite route by declaring bankruptcy. However, one of the most common routes is debt settlement. Based on the number of boberdoo clients that sell debt settlement leads, debt settlement appears to be just as popular as a lead vertical. One important thing to note is that there is a large variance in the quality of lead vendors providing debt settlement leads. While there are certainly many businesses generating high quality, real-time leads, there are also many that sell much lower quality leads. It is important to always test out new vendors before completely committing to their leads and selling them to your buyers.