Setting Your Column Priority
You now have the ability to customize your Leads, Partner, or any other column-based tab to show you the information you want to see and in the order of your choosing. For this example, we will take a look at the Leads tab. To configure your column priorities, access your Leads tab and select a lead type. Next, you will see a new button at the top right corner of the page. If you mouse over this gear-shaped icon, you will see that it is titled Column Priority Configuration.

After clicking this button, you can simply drag and drop your fields to display their corresponding columns in the order of your choosing. You can also choose to hide fields as well by unchecking the box next to the column title. Any columns that you order at the bottom of the page can still be accessed by scrolling to the right once you save your settings.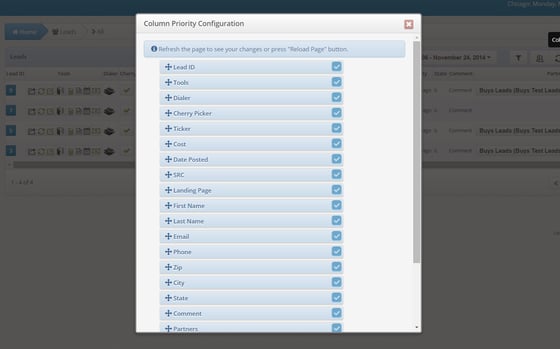 The columns available to you and their titles are specific to your system and your lead types and can be customized to your liking through a support ticket. If you still need assistance with configuring the column priorities on any of your pages, feel free to contact us.