The Solar Industry
*Disclaimer: we do not buy or sell leads. This page is an overview of the solar lead generation industry.
Over the last decade, commercial and residential solar installations have skyrocketed. With the domestic emphasis on renewable energy and the introduction of federal programs such as the Solar Investment Tax Credit (ITC), the solar industry is flourishing.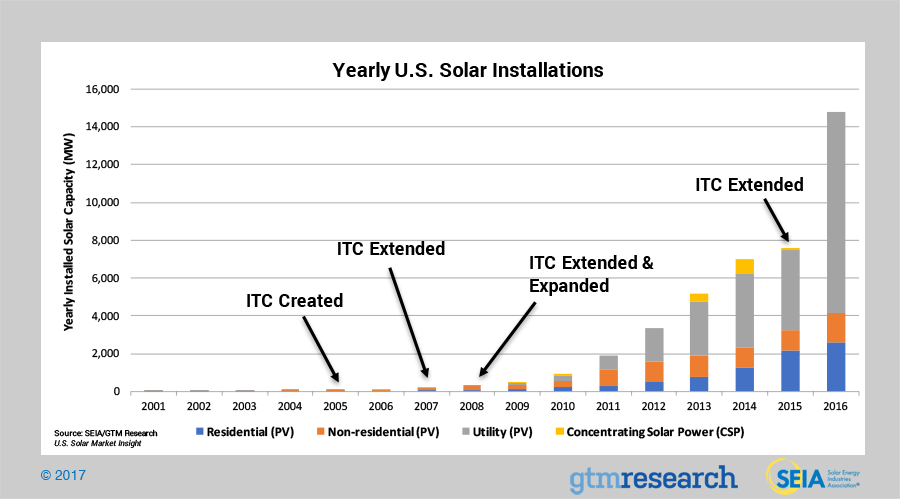 *Image courtesy of

SEIA
As the demand for solar technology and installation services have risen, many service providers have turned to lead generators to supply them with prospective buyers. And for that reason, solar leads continue to be one of the fastest growing verticals in the lead generation industry.
Solar Lead Generation
Often thought of as a sub-vertical to home improvement leads, solar leads are generated, delivered and sold in very similar ways. Like any lead vertical, solar leads can be generated in a number of ways, from online marketing to traditional TV or radio ads. However, what makes solar leads unique is the sophisticated distribution process that has become standard in the industry. This process is called ping post. If you're not familiar with ping post, you can download our basics of ping post whitepaper below.
In short, ping post allows contractors and wholesale lead buyers to dynamically bid on every individual lead you generate. This allows the contractor to only buy leads that meet their specific criteria (e.g. geographic location) and ensures the lead seller is selling each lead to the highest bidder for the maximum value.
How To Do It
In order to sell solar leads in real-time, you need a sophisticated lead distribution system. Your lead distribution system can automatically handle both buying and selling ping post leads in real-time. You can even use your system to route and sell phone leads. This is especially important in the solar industry when selling leads to contractors that are often on job sites rather than waiting for web leads to reach out to.

How boberdoo Can Help
The boberdoo lead distribution system is fully equipped to handle all technical requirements for buying and selling solar leads. If you're interested in exploring exactly how boberdoo can fulfill your business's specific needs, fill out the form below or give us a call at 800-776-5646.
Our company builds lead distribution software for lead generation companies. We DO NOT SELL solar leads. If you are looking to purchase leads, please submit an inquiry and tell us who your current suppliers are and we can make introductions to boberdoo clients in that vertical.