boberdoo's login security feature requires two-factor authentication for any admin, partner or vendor that logs into your system.
Two-factor authentication is a system access security feature that requires the user to verify their identity at two separate touch points.
Once both steps are completed, the user can log into the system.
When you first log into a system, there should be a page that asks you to set up your 2FA right away. Please follow the video below to understand the different types of Two-Factor Authentication.
Otherwise, two-factor authentication is managed at the user level in the boberdoo system.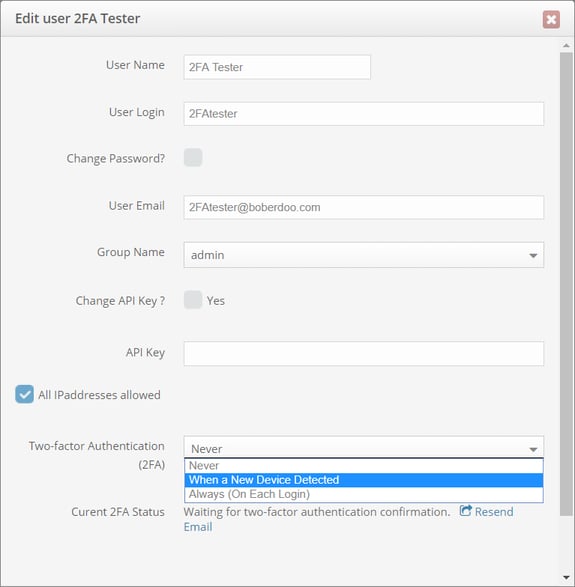 Once two-factor authentication is enabled for a user, a confirmation email is sent to the user to confirm the activation of the two-factor authentication feature. The user must click the link contained in the email to enable two-factor authentication. Once confirmed, the corresponding two-factor authentication rule will remain in effect indefinitely unless the two-factor authentication rule is changed to Never for the user.

SMS Messages
You can send the 2FA code through SMS messaging if that is what your heart desires. In order to do so, SMS messaging must be set up in your system. If the 2FA page gives you the option, congratulations, it is already set up and you can plug your number in. If not, please submit a support ticket and we can help set it up for you.
Authenticator Apps
The most common 2FA apps out there are Google and Microsoft, but there are other 3rd party ones out there if you would like to use them. Once you log into boberdoo, you should be prompted to set up your 2FA, follow the prompt and it will take you to this page.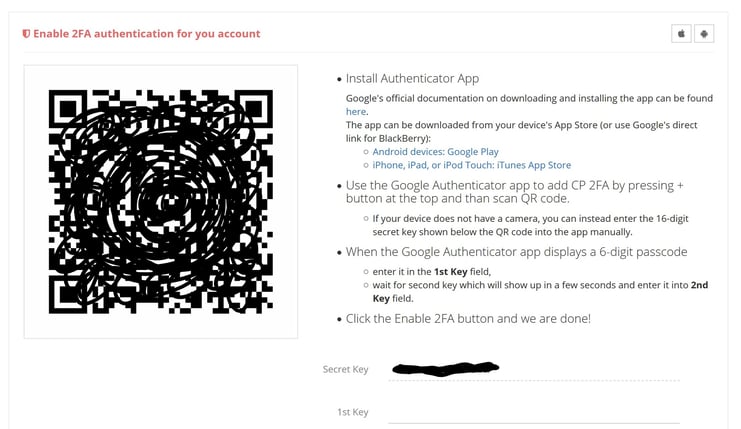 Otherwise, to get there follow the Settings Tab > 2FA and it will take you to this page. Follow the steps using the app that best suits you, please submit a support ticket if you are having issues.
The above rules and setup process can also be applied to any of your partners and vendors when they log into the system.
If you have any questions about two-factor authentication or if you do not see the two-factor authentication rules when editing an admin user, partner or vendor, please contact support.