The Federal Communications Commission recently adopted a proposal designed to protect consumers from unwanted robocalls and spam texts. As we await the FCC's declaratory ruling and clarification on its interpretation of the TCPA, many business owners are left wondering exactly how this will affect their business. It is not our goal to interpret the new TCPA rules, but to provide you the relevant information to help steer your business towards compliance.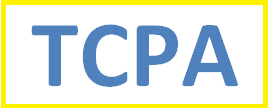 What are the new TCPA rules?
Listed below are the key rulings specified in the FCC's press release.
Green Light for 'Do Not Disturb' Technology
Service providers can offer robocall-blocking technologies to consumers and implement market-based solutions that consumers can use to stop unwanted robocalls.
Empowering Consumers to Say 'Stop'
Consumers have the right to revoke their consent to receive robocalls and robotexts in any reasonable way at any time.
Reassigned Numbers Aren't Loopholes
If a phone number has been reassigned, companies must stop calling the number after one call.
Third-Party Consent
A consumer whose name is in the contacts list of an acquaintance's phone does not consent to receive robocalls from third-party applications downloaded by the acquaintance.
"Autodialer" is defined in the Act as any technology with the capacity to dial random or sequential numbers. This definition ensures that robocallers cannot skirt consumer consent requirements through changes in calling technology design or by calling from a list of numbers.
Text Messages as Calls
The Commission reaffirmed that consumers are entitled to the same consent-based protections for texts as they are for voice calls to wireless numbers.
Internet-to-Phone Text Messages
Equipment used to send Internet-to-phone text messages is an autodialer, so the caller must have consumer consent before calling.
Very Limited and Specific Exemptions for Urgent Circumstances
Free calls or texts to alert consumers to possible fraud on their bank accounts or remind them of important medication refills, among other financial alerts or healthcare messages, are allowed without prior consent, but other types of financial or healthcare calls, such as marketing or debt collection calls, are not allowed under these limited and very specific exemptions. Also, consumers have the right to opt out from these permitted calls and texts at any time.
These actions make no changes to the Do-Not-Call Registry, which restricts unwanted telemarketing calls, but are intended to build on the Registry's effectiveness by closing loopholes and ensuring that consumers are fully protected from unwanted calls, including those not covered by the Registry.
What this means for lead generation companies
Generally speaking, the new rulings are reason for concern for any company that reaches out to customers via phone or text message. As the reach of the TCPA expands and the penalties for wrongdoings (whether intentional or not) increase, it is more important than ever for lead generation companies to evaluate their practices and seek legal advice to ensure TCPA compliance.
One of the biggest challenges for lead generation companies will be acquiring express written consent from each lead that can be transferred to the buyer who ultimately places the call. Although the lead generation company wouldn't be at risk of violating the new TCPA rulings, the buyer could be.
We at boberdoo have been providing innovative solutions for the lead gen industry since 2001 and can provide your business with custom options that allow you to adapt to these changes. If you would like to learn more about how we can help your business, please give us a call at 800-776-5646 or click the red Contact Us tab.
The material contained in this article is provided for informational purposes only and is not legal advice, nor is it a substitute for obtaining legal advice from an attorney.
boberdoo is a leading provider of lead distribution software for lead companies of all sizes. We've been building lead systems since 2001 and have seen dozens of regulation changes throughout the years. We continue to help each of our clients not only maximize their revenue on every lead they sell, but also provide the tools necessary to keep their business safe.