One of the biggest challenges for lead generation companies is determining how to get leads. While there are virtually an endless number of possibilities, the success of each method is likely swayed by how much funding you have available, your marketing expertise and the amount of time you can dedicate to any given strategy. Because of this, we decided to create a list of a few lead generation ideas that you may not have tried in hopes that you can add an additional strategy that fits with your business.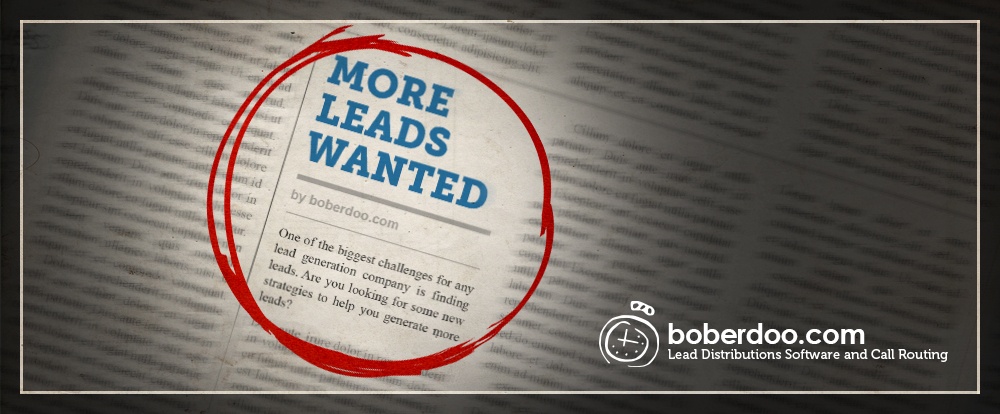 1. Long Tail Keyword PPC Ads
Paid search ads are one of the best ways to generate targeted traffic to your landing pages. There's just one problem. Highly competitive keywords in your lead vertical will cost you a fortune. The solution: utilize long tail keywords. Do some research to find several keywords with lower search frequency that still relate to your product/service offering. Because these keywords are searched less frequently, they will cost you less per click. Not only that, but some of these keywords can even be more targeted to your audience than the more general and more expensive keywords. Compile enough of these and you'll be glad you didn't splurge for the big keywords just to get the traffic.
2. Give Something Away
The relationship between a lead generator and the lead is a delicate thing. The lead gives you their contact information with the understanding that you will provide the product or service they request. However, individuals are both smarter and more cynical when it comes to online transactions than ever before. Why not sweeten the deal to encourage each lead to convert? Try giving away an add-on that relates to the product/service they are requesting. In the home improvement vertical, try including a home decor ebook. Are you operating in a sub-prime vertical? Give away a whitepaper with tips to achieve financial security. While the lead expects to be contacted by an end service provider, a complimentary gift can increase conversion rates.
3. Email Drip Campaign
Do you have an emailing list or access to someone that can deliver emails on your behalf? Utilize an email drip campaign that encourages the recipient to fill out your form or give you a call. Drip campaigns allow you to be direct while maintaining the ability to nurture the potential lead up to the point of conversion over several sequential email messages.
4. Build a Lead Seller Network
One of the best ways to get leads is to buy them. While this might seem counterintuitive to a traditional lead generator, there are many benefits to buying and reselling leads. Buying leads allows you to supplement your current lead flow and increase volume. It also diversifies your lead sources which helps protect you from any dropoffs in lead generation performance.
5. Buy Leads Via Ping Post
Buying leads is great, but buying leads on a ping post basis is better. Ping post is the real-time dynamic bidding process that is revolutionizing the lead generation industry. You can read more about the basics of ping post here. Dynamically bidding on the leads via ping post allows you to only purchase the leads you want at the price you want. If you're operating on a limited budget, you can keep your bids low and ensure a large markup for each lead you purchase. Furthermore, you can increase your bids to increase your volume as necessary.
6. Create An Affiliate Program
Utilizing affiliates is a great way to get your landing page in front of additional traffic and generate more leads. You can pay out to your affiliates on a per-lead basis or even on a revenue split.
7. Content Marketing
In the last few years has there been a bigger marketing buzzword than Content Marketing? I'll answer that for you. No. But there's a reason for that. High quality online content is what most people search for, spend the most time reading, and share on social networks. And because of these factors, it is also what ranks highest on Google and other search engines. If you want more people to fill out your forms or call your 800 number, create some relevant content and get it in front of your audience.
8. Social Media Marketing
Many lead generation companies are finding success marketing on various social media sites. This can work organically by building a large network of followers and publishing messages to them. You can also utilize social media ads to reach a much larger audience targeted to your specifications.
While each method above varies in cost, the volume of potential leads generated and the quality of the leads themselves, we are confident that by utilizing one or more of these strategies, you can improve your lead generation business. At the very least, we hope these ideas have given you a new outlook on how to get leads.
boberdoo.com is a leading provider of lead distribution software for any company that needs to buy or sell leads in real-time. Since 2001, we have been building the most advanced lead systems on the market and continue to help our clients save time and maximize the revenue on every lead they sell. If you would like to explore exactly how boberdoo can help your business, please give us a call at 800-776-5646 or click the red Contact Us tab. We would be happy to discuss your exact needs and determine how we can help.