Generally speaking, any company that generates leads or calls and sells them to one or more lead buyers is known as a lead generation company. While many businesses utilize their own marketing methods to generate leads for their own use, lead generation companies generate leads with the sole intention of selling them to end service providers.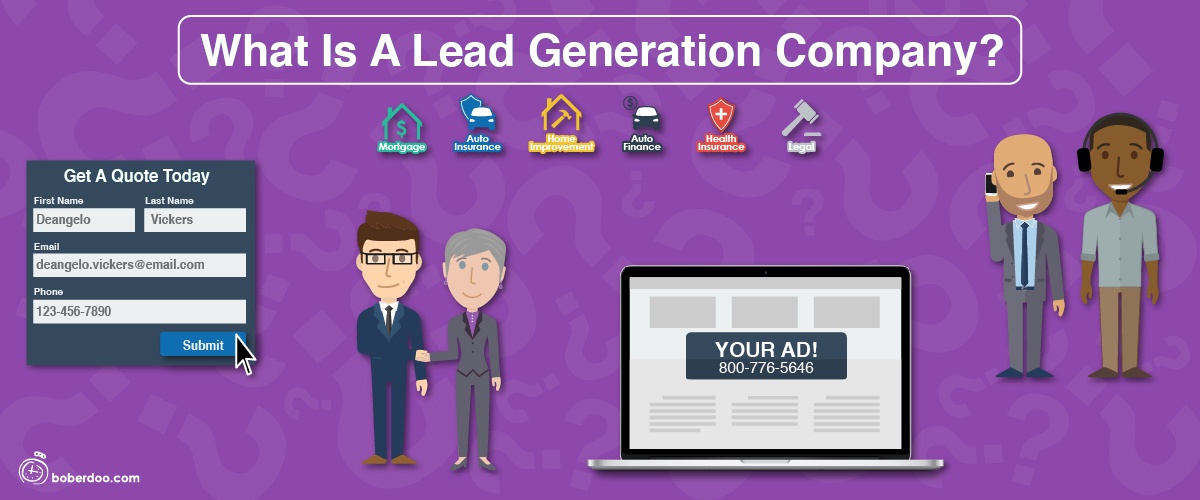 This simple definition is a good guideline when thinking about all of the actors involved in the lead generation industry, however, there are also a few more nuances worth noting.
Traditional Lead Generation Companies
The definition above perfectly describes a traditional lead generation company. However, this can also be split into two categories: generic lead generators and proprietary lead generators.
Generic lead generators: These lead generation companies run generically-branded marketing campaigns. Think of it this way. Instead of offering a free quote for Geico insurance, a generic lead generator would utilize his or her own brand (e.g. World's Best Auto Quotes) to provide quotes from multiple insurance companies. This allows the lead generator to sell the leads they generate to one or more members of their network of buyers, rather than a single buyer.
Proprietary lead generators: These lead generators partner with a single end service provider to generate leads for the service provider's specific offering. In other words, Sally's Solar Panels might hire a proprietary lead generator to use the Sally's Solar logo on marketing materials and generate leads specifically interested in Sally's Solar Panel's services.
Lead Aggregators
When discussing lead generation companies, lead aggregators are frequently thrown into the mix. Technically, a lead aggregator does not generate leads. Instead, an aggregator sits in between lead generators and the end service provider. The aggregator purchases leads from lead generators that have no end service provider to sell to and re-sells the lead to his or her own network of lead buyers. This gives traditional lead generation companies a good option to ensure no leads go unsold and makes sure the lead is put in touch with an end service provider regarding their request.
Other Lead Generation Company Types
Advertising and Media Agencies: Many traditional advertising agencies fall into the lead generation category. Clients may approach agencies specifically to build proprietary lead generation advertisements. Other agencies take advantage of generic lead generation at times to capitalize on their expertise and generate revenue when business is slow or just to supplement their earnings.
Advanced Publishers: Many lead generation companies develop from the traditional advertiser/publisher relationship. While many publishers or affiliates grow accustomed to driving traffic to an advertiser's online resources, many more develop a lead generation business of their own. This allows the publisher to cut out the advertiser, develop their own product or service offering and handle every aspect of the marketing, conversion and lead sale process.
boberdoo has been working with all types of lead generation companies since 2001. Our clients range from one-man, part-time lead businesses to fortune 1,000 companies. Lead companies come in all shapes and sizes and we mean it when we say every lead generation company is different. That's why we pride ourselves in offering the most complete and flexible lead software on the market. Whether you're looking to start a lead generation company or continue to grow an existing lead generation giant, you can do no better than boberdoo.

Don't just take my word for it. See if for yourself. Give us a call at 800-776-5646 or fill out the form below to get a live demo!