Last week, LinkedIn announced a new website tool designed to provide detailed demographic information on your website visitors based on your visitors' LinkedIn profiles. Although this product has still yet to launch, we decided to dig into the specific details to determine whether or not it could serve as a useful tool for B2B lead generators. Here's what we learned.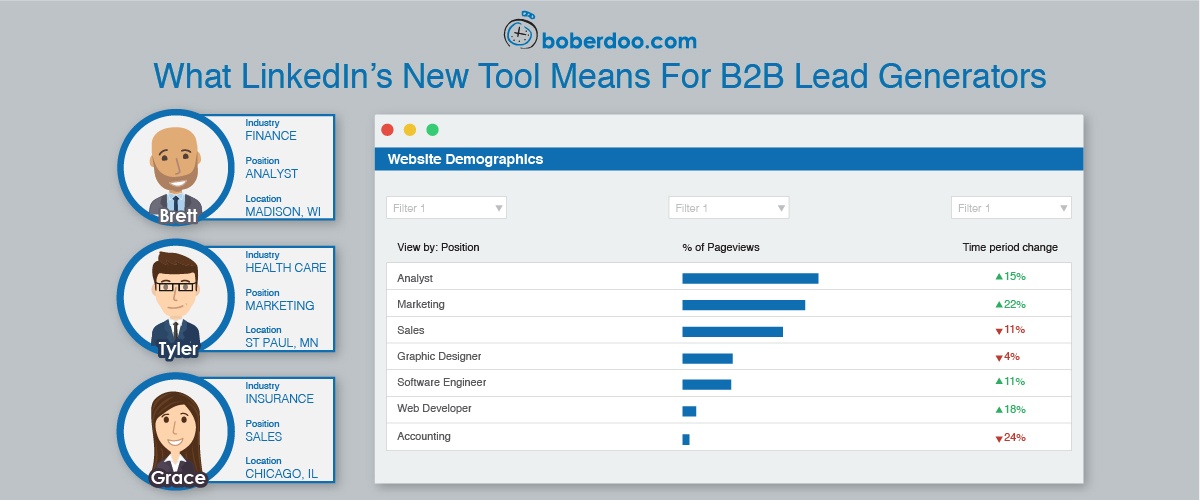 LinkedIn Website Demographics Overview
LinkedIn's new Website Demographics tool will allow you to place a tracking code on any of your website pages to capture LinkedIn profile information for all of your website visitors that are currently logged into LinkedIn. You can then build custom audiences and capture aggregated website usage data based on LinkedIn data points such as job title, company size and more. This gives you an entire website behavior profile broken out by the LinkedIn demographic information you capture.
How Can This Be Used By B2B Lead Generators?
While this tool may prove to be useful for both B2C and B2B lead generators alike, we anticipate the biggest benefit and most useful insights for B2B lead generators specifically. By capturing several specific demographic data points for your website visitors, you can make educated adjustments to your marketing efforts, website optimization and more.
For example, let's say you generate credit card processing leads. With Google Analytics tracking and demographic information, you can learn a decent amount about the individual website visitor. However, you have no information about the business that the visitor represents. What percentage of your website traffic works for businesses with 1-10 employees? How about 50-100 or 1,000-5,000 employees? This one data point alone could make a huge difference in the way you construct a credit card processing lead generation funnel or the way you market your leads to prospective lead buyers. As any marketer knows, it's extremely important to know your audience and this tool could certainly help.
How Useful Will This Tool Be?
LinkedIn Website Demographics sounds like it could be an extremely useful tool, but should B2B lead generators really be holding their breath, eagerly waiting for its release?
The truth is, we don't know. We're certainly eager to try it once it is released, but at this point, we can only speculate. If you rely heavily on your website to drive conversions, this is probably something worth trying. However, this tool obviously leaves you at the mercy of self-constructed LinkedIn profiles, categories and data points they specify.
We have every intention of testing this tool out for our own benefit, so be sure to check back in the coming weeks for a full review of LinkedIn Website Demographics.
boberdoo has been building technology for lead generators since 2001. Our software allows lead companies to track, route and sell web leads and calls in real-time. We also boast many tools built specifically to help lead generation companies save time, money and even increase their revenue opportunities for every lead they generate. Interested in learning more? Give us a call at 800-776-5646 or fill out the form below!