Email is one of the most undervalued services for any business. Sending and receiving emails allows us to communicate with clients, broker new deals with prospects and send videos of cats riding roombas to our co-workers. However, any company that is in the business of buying and selling leads knows how important email delivery truly is. Whether you use it to deliver your monthly invoices, send various notifications or even deliver the leads themselves, email is an essential piece of any lead operation. What are you going to trust to send out each of these important emails?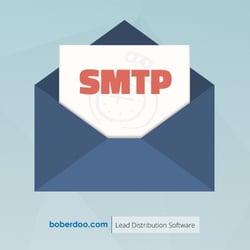 Getting your own SMTP server or using an alternative SMTP client should be a top priority if you rely on your lead distribution system to send emails in any capacity. Please read on to discover the 3 reasons that make having your own SMTP server essential.
1. Improved Deliverability
The most obvious benefit of utilizing your own SMTP server is the improved deliverability of emails. Many email services can leave you with low delivery success rates, which can cause major issues among your business, your clients and your customers. Having your own SMTP server gives you the luxury of an extremely high delivery rate as well as a backup plan should any delivery fail. In the event of a failed delivery, your SMTP will respond with an error so that you can always handle any situation before it becomes a problem.
2. Research Specific Emails Sent
Having your own SMTP server also gives you the benefit of researching all of your emails sent. Without your own SMTP, you do not have full access to your archive of sent emails, which can make standard measures such as follow-ups and reporting a hassle.
3. Avoid Client Disputes
Along the same lines but from a lead seller's perspective, having your own SMTP server means that you always have a last-resort file of records in the case of a dispute between you and the buyer. In a situation where the buyer believes he/she never received a lead, you can look back into your email database and find the exact email, when it was delivered and when it was received.
How is this done within your boberdoo system?
At boberdoo, we practice what we preach and encourage all of our clients to get their own SMTP server. The boberdoo.com lead distribution system is built to allow you to send emails containing leads, reports, invoices, notifications and more so we know the importance of a reliable SMTP. If you don't have your own SMTP server, your best route is to use a service provider such as Sendgrid.
If you are already a client and want to integrate your sendgrid account to your boberdoo.com lead distribution system, please watch our step-by-step video.

boberdoo.com provides lead distribution software for companies that need to route leads and/or calls. As experts in the lead industry since 2001, we have built a lead distribution system that will not only meet your lead routing needs, but also present you with additional opportunities to grow your business. If you would like to learn more about boberdoo.com, please click the Contact Us tab or call 800-776-5646.
Utilizing Your SMTP