Last week we published a blog post documenting our experience shooting a video ad with three Google reps that visited our Chicago office. In that post, we described our full experience from start to finish and show you the completed video. However, in today's post we will dig into our experience even deeper and pull out the biggest takeaways for our clients and anyone else interested in video lead generation.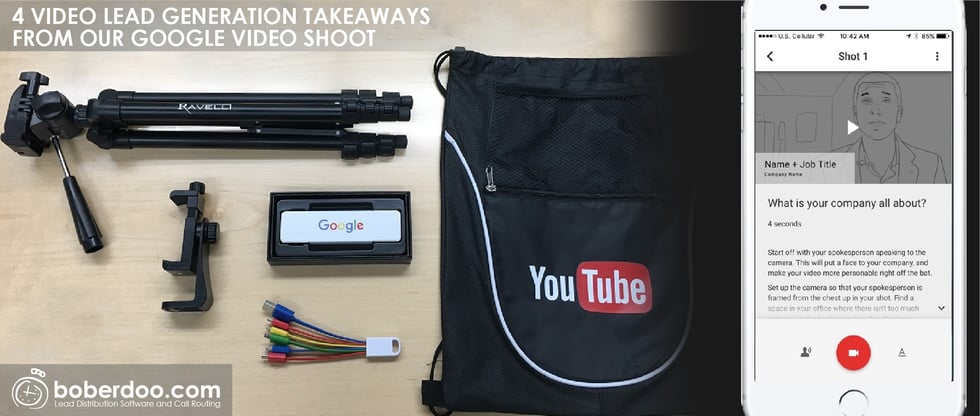 Video Lead Generation | What We Learned From Our Google Reps
Before shooting an advertising video with Google, our opinion of video was that it was extremely important for marketing (particularly search engine marketing), somewhat difficult and extremely time consuming. However, we were a bit surprised by our experience with Google. Here is what we learned.
1. You Don't Have To Be An Expert, But It Wouldn't Hurt
With the assistance of three Google advertising experts, we shot, edited and published our entire video ad on the YouTube Director for Business app. This app isn't perfect, but if you're not a video production expert, this is probably the best free help you can get. It allows you to choose from templates, walks you through each shot with step-by-step instructions and is fairly intuitive. The biggest issues we had when shooting our video was lighting and sound. While we now know what we could have corrected, it would have helped to have someone with some video experience helping with these elements. Don't get me wrong, a professional video crew is always going to produce a better video than our marketing team with an iPhone, but the difference isn't as big as you'd think.
2. You Can Shoot, Edit And Publish A Video For Free
Our entire video shoot cost us nothing but an afternoon of work. The YouTube Director for Business app is free to download and we already had the equipment (iphone, tripod and lapel mic) required. If you're willing to take the time to shoot and edit a video in-house, this is a great option. However, as a professional marketing company, its likely that you're not afraid to invest some money in professional help. We learned from our Google reps that this isn't as expensive as you'd think.
One option is YouTube's Director onsite service. If you live in one of seven metro areas that support this service, you can get the help of a professional video specialist and shoot a video in a day for a few hundred bucks. It's also true that the video quality from the newest iPhones and Androids are good enough for online videos. Even if you don't use YouTube's app or one of their services, you don't need to hire an entire video crew. All you really need is one person that knows the basics of shooting a video.
3. Use YouTube For Retargeting
Videos are great for adding some excitement and personality to your website and they are even better for helping your organic search results. However, advertising videos can also be utilized strategically on YouTube as retargeting ads. In the same way that you can use Adwords retargeting pixels to push text or display ads to those who have previously visited your website, you can also push YouTube ads to these site visitors as well. As Google search keywords continue to skyrocket in price, YouTube retargeting could be a great way to sneak ahead of your competition using a more dynamic medium: video.
4. Video Lead Generation And Client Acquisition
It's easy to talk about videos generically, but let's talk about your lead generation business. Do you want to use video to generate leads or to generate new lead buying/selling partners? I hope your answer is both. One of the biggest things we've learned in the recent months, and once again reinforced by our experience with Google, is that video can and should be used as much as possible. Don't limit your efforts to just lead generation or just client acquisition. Do both.
boberdoo has been innovating and improving the lead generation industry since 2001. While our sophisticated lead and call distribution software continues to help lead companies save time and money, we are always looking for new and innovative ways to help lead businesses. Whether video lead generation becomes the new dominant advertising medium or if Amazon Alexa or other smart speaker technology takes over, we'll be there! If you'd like to discuss exactly how boberdoo can be of assistance to your lead business, please give us a call at 800-776-5646 or fill out the form below.