The name of the game in the lead generation industry is acquiring leads and finding buyers to purchase them. Your challenge is matching supply with demand and ending up with a profit at the end. While your buyers are the ones cutting the checks, your lead sources are the real meat of your operation. Are you managing and optimizing each lead source to it's full potential? Are you taking advantage of each source to ensure optimal revenue on each and every lead? Although it may sound difficult or abstract, our 4-step process is built to help you do just that: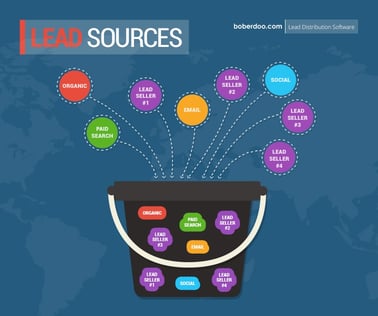 Step 1: Segment as much as possible
Segmentation is the most important step when evaluating and optimizing your lead sources. It is to your benefit to segment your leads as specifically as you can. Do you generate your own traffic? If so, do you generate leads via organic search, paid search, email, social or any other methods? Maybe you buy leads from a 3rd party. Are they generating their own leads or are they also buying from another source? It is vital that you segment each of your incoming leads into specific and unique sources. This allows you to divide your data, which will allow you to make the individual, informed decisions required to maximize your revenue on every lead.
Step 2: Conduct periodic lead source audits
Now that each lead source is segmented, it's time to test each source. While you should have tested your sources before introducing them into your lead flow, it is important to run an occasional audit on each lead source. While there are several ways to do this, sophisticated lead distribution systems such as boberdoo.com provide the options to either manually review leads from a given source or automatically score them. Conduct an audit every few months if possible to keep tabs on each lead source and determine if the lead quality changes.
Step 3: Record the value of each lead source
After performing your lead source audit, it is important to assign a value for each of your lead sources. How many leads are you receiving via this source? How many refund requests do you receive? Do you know the close percentage of leads from the specific source? It is important to gather all the information you have about each lead source and assign a value to each. This value is the key to optimizing each source and maximizing your total revenue.
Step 4: Treat each source accordingly
Now that you know the value of each individual source, you need to adjust your buying and selling decisions accordingly. While you will quickly know if you are selling your leads from each individual source at an appropriate price, you can also make decisions on the lead origin. Are you paying too much to your 3rd party provider? If you generate your own leads, are you spending enough time and money on the source that nets you the most profits? Making simple tweaks on both ends of the lead generation process based on your source information can lead to huge swings in your revenue total. Advanced lead distribution solutions like boberdoo even provide tools such as a premium vendor margin that allow you to carve out your share (or reward your seller) on every lead to your exact specifications.
These 4 simple steps can certainly help you evaluate, adjust and capitalize on each of your lead sources. If you don't already have a lead distribution solution that allows you to segment, evaluate and adjust each individual lead source, then boberdoo may be the right software for you. As a leading provider of lead distribution systems since 2001, we continue to help businesses just like yours realize their potential and grow. If you would like to learn more about lead sources or the boberdoo.com lead distribution system, feel free to contact us. We'd be happy to discuss your specific business and lead sources and determine exactly how you can benefit from the boberdoo system.