The holidays are officially here. We know that for some lead companies, this means a slight slow-down with operations until quarter one of the new year. However, we also know that, for many of you, this means putting in extra hours to make up for the time you'll be away from your business. If the latter is the case for you, we've got you covered. With the right lead distribution software, you can automate your lead business at dozens of different touch points, even if you only use them over the holidays. Don't stress this holiday season. Relax and let these automation tools take over.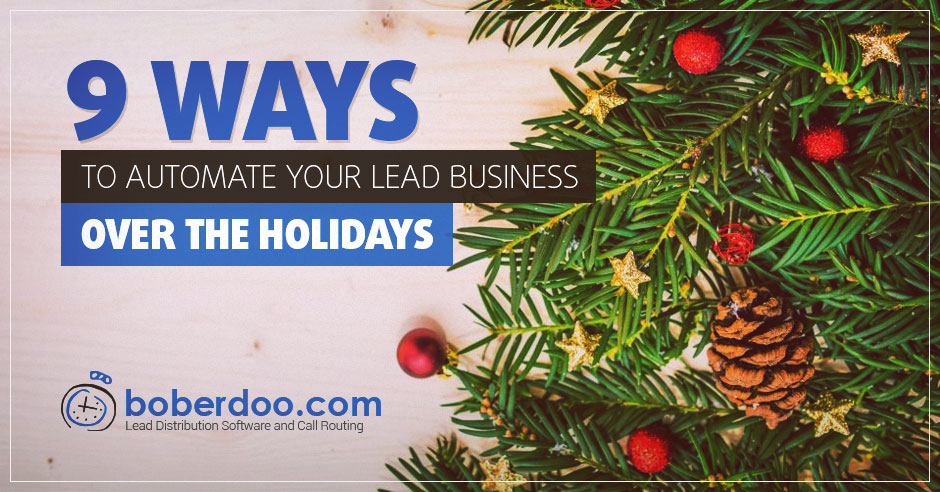 1. Real-Time Lead and Call Routing
If you're not already automatically routing all of your leads and calls from every vendor and lead source in real-time to your network of lead buyers, this is where you need to start.
2. Automated Invoicing and Re-Billing
Billing is one of the most time-consuming monthly tasks for a lead company, but its also one of the easiest tasks to automate. With the right system, you can automatically invoice each lead buyer based on the previous month's activity. With advanced solutions such as boberdoo, you can even implement automated subscription fees or rebilling triggers.
3. Automated Outbound Marketing
Say goodbye to the days of one-off email drops. With the right lead remarketing software, you can set up automated drip campaigns to launch for leads that you buy or generate. You can even segment these leads into unique campaigns based on the fields they enter and the criteria you set. Imagine how much better that holiday ham will taste knowing that your set-it-and-forget-it outbound campaigns are automatically plugging away.
4. Timed Reports
When you're away from the office over the holidays, we know you might still be tempted to take a peek at your business. With timed reports, you can get any report automatically emailed to you on the interval of your choice.
5. Form Builder
The first step to automate your lead business is the lead posting process. At boberdoo, we make it easy. You can use our form builder to create forms from your lead types that automatically post into your system.
6. Custom Deliveries
The second step to automate your lead business is delivering to your buyers or posting into their CRM or LMS. We've got you covered here to. Either use our custom delivery wizard or put in a request for us to build you an integration into any external system. We can even help you customize your email deliveries and help you set up automated SMS deliveries as well.
7. System Notifications
When using sophisticated lead software to run your business, automated notifications are vital. With so many moving parts for each individual lead running through the entire distribution process, manual monitoring is impossible. System notifications will alert you to any issues arising in your system, or simply keep you informed of the ongoing activities in your system.
8. Additional Rules
Setting rules is one of the best ways to automate your lead business. With sophisticated systems like boberdoo you can set specific rules at various levels of the system such as system-wide, source-level, partner-level and more. For example, with boberdoo you can set rules and restrictions for your partners requesting refunds at the system-level or even based on the individual buyer.
When running a lead business, automation is important, but when running a lead business during the holidays, automation is vital. At boberdoo, we encourage all of our clients to automate as many parts of their lead business as possible, and continue building solutions that allow for this. If you'd like to automate your lead business, are interested in any of the points above or even looking into a new lead distribution system entirely, give us a call at 800-776-5646 or fill out the form below. We've been helping lead companies automate their lead businesses since 2001. We'd be happy to help you too. Happy holidays!