Do you own a call center, or work with one? What are the biggest issues you have run into when using call centers to generate leads? If you outsource the campaigns, you obviously have less control in how the leads are generated. However, even if you run your own call center, there is only so much you can control. After all, your call center operatives cannot be programmed to make the right decisions every time. Human error can, and oftentimes does, cause a drop in revenue rates. There is also an additional cost in making sure all the call center operatives are properly trained and managed for each specific campaign. All these factors can decrease the profit potential for the leads that are generated using call centers. But don't worry, there is a solution.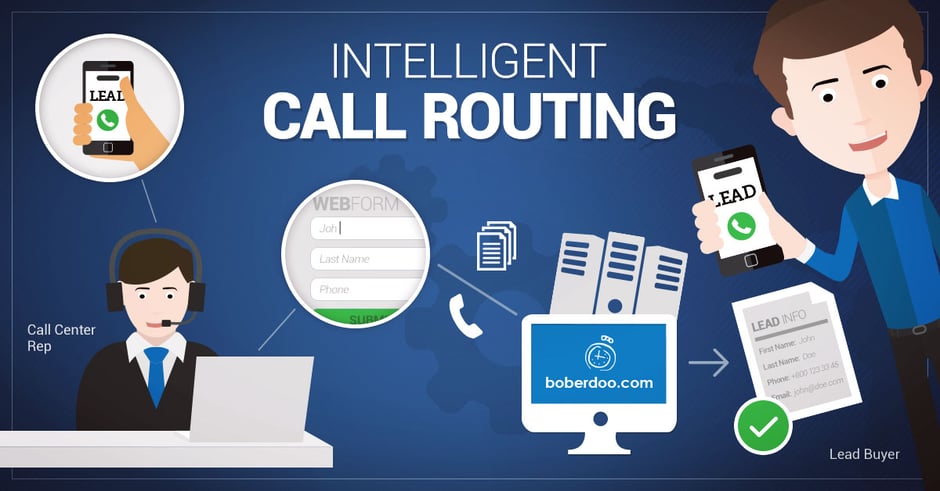 Intelligent Call Routing
boberdoo has helped many of our clients in the same situation automate the decisions that call center reps have to make. With our intelligent call routing system, you can route calls as well as live transfers automatically and in real-time and allow boberdoo to take care of the decision logic.
Why Should You Use Intelligent Call Routing?
There are several advantages of using an automated system to route your calls. To start off, it allows you to take all the decisions from the hands of your call center reps and build these decisions into the back-end logic of your routing platform. This will ensure a certain level of consistency from rep to rep and accurately track every transfer, including recording the entirety of each call. An automated system like this will also allow you to incentivise your call center reps and pay them per transfer made, which is also an option that is included in boberdoo. Above all, using an automated, intelligent call routing system will allow you to spend less time managing and training your call center reps and allow you to spend time on revenue generating activities.
How Does Intelligent Call Routing Work?
First, let's cover call routing. With boberdoo, you can order a phone number right in the system and have your call center operatives transfer each phone call to this number. boberdoo will then take over and automatically transfer the calls based on any pre-determined criteria including origin area code, time of day, day of week and any custom IVR options.

Live transfers work in a very similar way, but also include a data portion in addition to the phone call. The first step in the live transfer would be for your call center reps to make the outbound call. Once they gather the information required from the leads, they submit this into the boberdoo system. Most dialer systems have the ability to post right into the boberdoo system, but if they don't, you can build a custom landing page with a boberdoo generated form for your reps to fill out. Once this information is submitted, it will sit in manual review and wait for the associated phone call to come through. From here, the process is very similar to generic call routing. The phone call will come through and route to the appropriate client. After the call goes through, the data portion of the lead will automatically post to the same client. The lead details can also be emailed to your buyer or simply posted into their CRM using a custom delivery.

In a word, intelligent call routing gives you control. At boberdoo, we continue to help lead generation companies gain more control over their lead businesses, allowing them to spend more time focused on revenue-producing tasks. If you're looking for intelligent call routing software, web lead distribution or even ping post software, boberdoo is the solution for you. Give us a call at 800-776-5646. We'd love to discuss your specific needs and determine whether our intelligent call routing solution is right for you.