I have attended and exhibited at lead conferences in the past, but got the opportunity to exhibit at LeadsCon for my first time last week. Because of my past experience, I generally knew what to expect of the fellow exhibitors and the attendees at LeadsCon 2017 in Las Vegas, but was excited to see exactly how the industry's biggest conference panned out.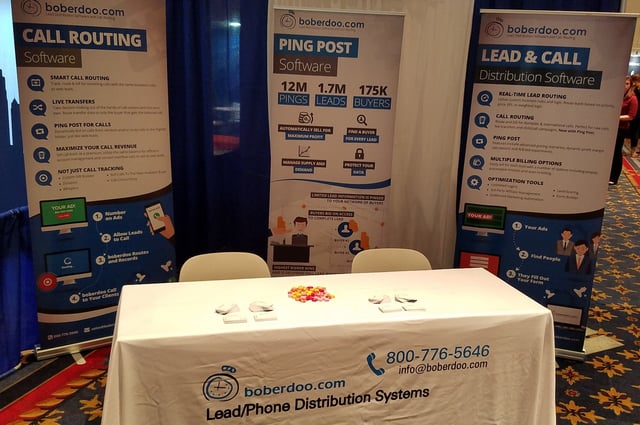 If you've never been to LeadsCon and are thinking about attending or exhibiting at the next LeadsCon, these 5 takeaways are meant for you!
1. Let me guess, you're a lead buyer?
As it seems to be the theme with most conferences in the lead industry, there was never a shortage of individuals looking to purchase leads. We had multiple groups approach us looking for medical leads, loan leads, insurance leads, as well as many other verticals. Many lead sellers take advantage of this trend by exhibiting at the show. But even as an attendee, you may be surprised by how much business you can drum up from other attendees.
2. The last thing you want to hear is, "We couldn't find your booth."
The phrase, "location, location, location" kept popping into my head during the show. boberdoo's booth was situated in a great spot, on an 'intersection' located only a handful of booths away from the front entrance. The foot traffic allowed for us to meet new people and be easily found by our current clients. There were some awkwardly placed booth slots located at the end of the rows. Companies in these locations definitely had to put in a bit of extra effort to get noticed.
3. Are you selling the steak or the sizzle?
Some exhibitors had incredibly showy set ups with drink stations, comfortable seating, live presenters, and even a shoe shine station! Other exhibitors kept things simple. Obviously those with the larger booths and some "draw" items attracted more attention, however, those who had more simple setups were not looked over. It was pretty clear that in order to have a successful LeadsCon (without a grandiose booth) you needed to have a good spot, reasonably informative signage, and some smiling faces ready and willing to answer questions. It is worth keeping in mind that, the newer your product or service, the more effort you will have to invest.
4. Who is at booth 150? Oh, and where is booth 150?
One critique I had of LeadsCon 2017 was the lack of information that was shared with attendees and exhibitors alike. For example, the last lead industry conference I attended, we were issued a large guide book that contained the schedule, attendee/exhibitor directory (with contact information), and quite a few other informational bits and pieces. The small guide that was given upon registration at LeadsCon was insufficient for me when I wanted to quickly learn more about some of the other exhibitors.
5. How could it have been more successful?
As with any type of conference, the more outreach and research you can do beforehand will always reflect positively on your time at the show. Reaching out to your prospects, clients, and potential prospect beforehand helps let people know you're attending and ready to talk!
boberdoo has exhibited at LeadsCon every year since the first conference in 2007. We find the conference to be an excellent place to observe trends in the industry, meet new people, and chat with our existing customers. If you have never attended, it might be time to give it a shot. If you would like to learn more about the conference or would like to explore some of the new features we debuted at LeadsCon 2017, please feel free to fill out the form below!