With 2021 Comes 5.15
New year, new update! With 2020 being left in the dust, boberdoo is implementing some new changes that you should be aware of. This includes Our new Outside Services tab and some updates to our Compliance tab. In addition, we now have some new wizard that optimize your experience for creating both Partners and Sources! Check out how our new updates will affect your system below, but for a complete list of changes, please see our changelog.
Source Wizard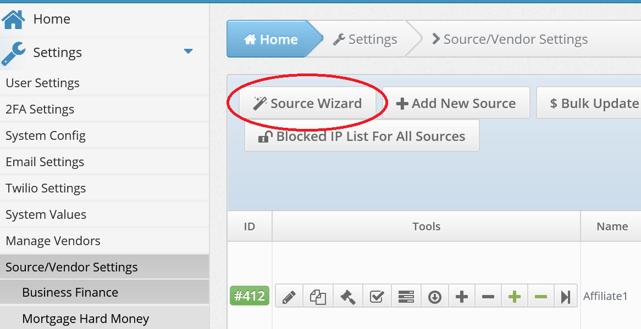 Everyone who has used boberdoo knows that creating a source for the first time can be very daunting. Since the lead industry is so vast, different use-cases requite different options. So for all intents and purposes, we created the source wizard button to allow sources to be made in a more user friendly way. But wait, there is more! When using the Source Wizard you can create not only a source, but a vendor and API key all in one fell swoop!
Outside Services - BYOC Bring Your Own Credentials
Outside Services allows you to make 3rd party API calls. Currently, the services that are available to use in the Outside Services tab are Anura, Infurtor, Journaya, The Blacklist Alliance and Trusted Form.
Video walkthoughs for each service
Partner Wizard


Much like our new source wizard, our new button for quick adding a new partner is here to make creating a new partner a breeze. All you need to quick add a new partner is the company, first name, last name, contact email and delivery email. From there you can give the credit limit or manual payment on account. The best part is, you can also create a filter set for the partner from here as well!
Ticket Wizard
Our new ticket wizard makes finding answers go much faster. When submitting a ticket now, it i will provide you with options that are likely to answer your question from our vast knowledge base. Checking out one or more of these support page options will likely take away the need to create a ticket in the first place! To see our new ticket wizard, start by creating a ticket just like before.
Compliance Additions
If you have been paying attention to our newsletters or social posts, you should know that data compliance and system security has been at the for-front of our efforts, In turn, this update includes different compliance and security parameters. Including, making Two Factor Authentication required (2FA), Adding a Google Recaptcha option to the Forms Manager, and adding phone numbers or emails to the block list in the Compliance Tab. Mention S3 data merge?
Reports and Webhooks
The new reports that are going to be in 5.15 are as follows:
Exporting Active Zips
Lead Details By Filter Set
Some fixes to Lead Reject Report Export Files
Timed Reports now have a history for changes
There is also a new webhook where you can set CRMStatus to closed. Finally, there is a new scheduler feature to auto-enable/disable partner accounts.
APIs and Misc.
New APIs:
addToBlockList

getReportProfitReportByTransactionDateByPartner

addContactsToPartnerSuppressionList

Along with the new APIs, some other general optimizations and additions have been made. As far as new UI changes, there is now a new ticket alert pop-up for tickets that need to be addressed post-haste. There have been some improvements made to the search for matched pings to a partner, and you can now implement Single Sign-On (SSO) for your partners. Along with timed reports getting history updates, budget limits have also been added to account history, and filter sets now have a history as well. There is now an auto integration of Unbounce into standard specs.