What is Click to Call?
Click to call is a mobile and web-based service that allows a user to click a number, link or button and automatically dial a phone number that is associated with it. You've likely seen these buttons when browsing Google on a mobile device or even on your desktop computer if you have click to call enabled in your browser through Skype or another VoIP client. I can tell you that adding click to call options to your digital marketing campaigns will help increase not only your contact rates, but even conversions. However, why not let the stats do the talking.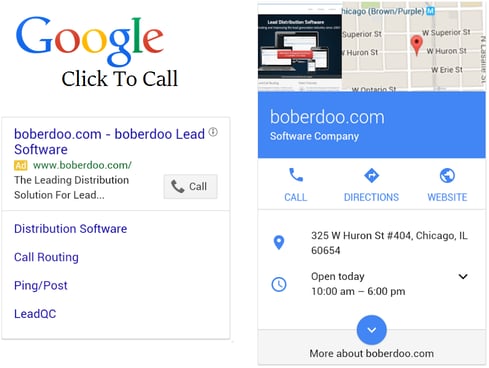 Click to Call Facts
- (70%) of searchers using mobile search have used click to call directly from Google's search results.
- Google searches generate over 40 million calls each month
- A recent study of over 30 million calls showed that of all calls generated via online marketing, mobile search generated 45% and desktop search drove 9%.
- Phone calls have 30-50% conversion rates, compared to only 1-2% for clicks.
- 1/3 of calls placed in 2014 were concentrated in the following industries: Insurance (Auto and Health), Financial Services, Home Services, Education, and Automotive.
How to set it up
Click to call can be set up on your website and on many different online advertising platforms (see examples here). However, Google is by far the most popular and easiest to set up. To set up a click to call number in Google Adwords, click here.
boberdoo Call Routing
As these statistics show, click to call can be an extremely valuable tool to any lead generation company. However, it is only as useful as the backend software that can route and sell those calls in real-time. That's where boberdoo comes in. boberdoo's lead and call routing software is equipped with the ability to order a phone number, set up a phone campaign and route and bill for each incoming call in real-time. Any of these boberdoo phone campaigns can then be utilized with your click to call buttons. If you would like to learn more about how to utilize boberdoo to ultimately run your click to call campaigns, please give us a call at 800-776-5646 or fill out an inquiry under the red Contact Us tab.