An IVR or Interactive Voice Response, is one of the greatest tools that lead generators can use to polish and optimize their call traffic. If you're not already aware, an IVR is a pre-recorded message and interactive menu that allows the caller to provide information about their inquiry before being redirected to a sales representative.
For example, "Thank you for calling boberdoo.com. To speak with Sales, press 1. To speak with support, press 2." You've heard similar inbound IVRs many times before, but do you know how to use this same technology for lead generation purposes?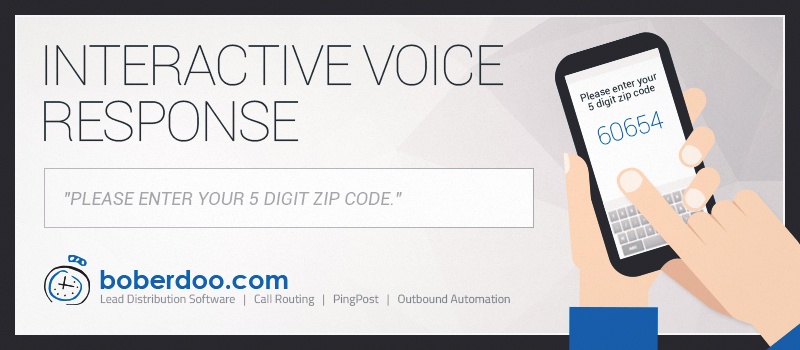 Using an IVR In Lead Generation
The most experienced call generators have been using IVRs for years, but as a software provider that has been working with lead companies since 2001, we are surprised by how few lead businesses have adopted this technology. The most valuable element of inbound calls is the virtually 100% contact rate and the inherent motivation displayed by the caller. However, one disadvantage is the lack of information that the lead generator or the sales rep have before the call is answered. IVRs solve this problem.
Benefits of Using an IVR
Let's examine an IVR that is commonly used by lead generation companies. "Thank you for calling boberdoo.com. To reach a contractor in your area, please enter your 5 digit zip code."
After the caller enters his/her zip code, the call is automatically routed to your network of buyers. This very simple step provides several huge benefits for both the lead generation company and the buyers.
Sophisticated Routing Options
With call routing software, such as boberdoo, when you are routing raw calls (calls that go directly from the lead to the buyer) your only routing option is based on the caller's area code. You can use this to assume the correct call buyer based on the geographic location of the caller. However, this assumption is becoming less and less accurate because of mobile phone use and also does not necessarily predict the needs of the caller. With an IVR, you can ask the caller specific questions about their inquiry, which you can then use in real-time to route to the appropriate buyer.
Additional Information For the Sales Rep
When gathering information from a caller via an IVR, that information can be used for more than just routing specifics. Sophisticated call routing systems allow you to capture that data in real-time and deliver it to the lead buyer or sales rep. This gives you the ability to supplement the live call with additional information that can help the sales rep close the deal. This is a great strategy to help keep your buyers happy and can even net you a premium for your calls.

Gatekeeper Between Caller and Buyer
IVRs also serve the subtle role as the gatekeeper between the caller and the buyer. This can be a very effective way to help cleanse your calls either directly or indirectly. Whether you're gathering additional information for the reasons stated above or are simply playing a recorded message to reinforce the service you advertised, an IVR can help you weed out misdials and low-quality traffic. This will help you keep your call quality high and consistent which can help increase the value of each call.
Replace Call Center Qualification
An IVR can also directly replace any labor used to qualify inbound calls. A carefully crafted IVR coupled with your call routing business rules can gather the information necessary for matching to your buyers. If this information is not met by the caller, you can route the call to a default number instead of selling an unqualified call to a buyer.
Custom IVR in boberdoo
boberdoo's call routing software fully supports IVR technology. You simply provide us with your specific requirements or use our self-serve IVR builder in your leadsystem. boberdoo's call routing rules are custom to your business requirements and IVR needs. Our system also routes calls with the same sophistication as web leads, giving you ultimate flexibility. If you're interested in learning more about boberdoo's call routing software and IVR options, please give us a call at 800-776-5646 or fill out the form below!